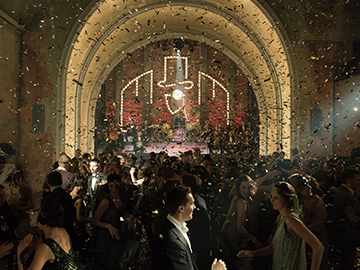 THE TV SERIES
Babylon Berlin is the most successful German TV series. Three seasons have already aired, and the fourth season, again directed by Tom Tykwer, is in production. Babylon Berlin takes viewers into one of the most dazzling and exciting periods of German history, the end of the Weimar Republic. The stories around police commissioner Gereon Rath show one of the most vibrant cities in the world at the time - between drugs and murder, politics and art, glamour and poverty, ecstasy and extremism. Today's Berlin served as a backdrop with its many historic buildings. Filming locations were, for example, the so-called Red City Hall and the Schöneberg City Hall, the Charité, Alexanderplatz and many other streets, squares and buildings.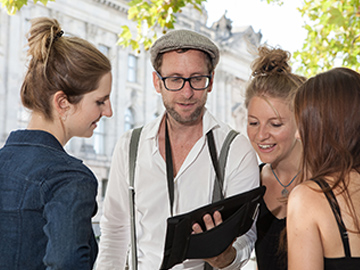 OUR TOURS
We are the exclusive tour partner of the series Babylon Berlin and offer the official tour for the series. We also offer other tours of the 1920s that can be combined as desired. Our tours take you to the filming locations of the series, but also to the fascinating original locations of the time. Where were the criminals active? In which building did Gereon Rath work? What remains of the famous music halls and ballrooms? Who determined politics? During the tours on the bus or on foot, we play fascinating historical film documents via large monitors or iPads. In addition, as an exclusive partner, we are allowed to show excerpts from the TV series. Join us on a journey through time to Berlin's most legendary era, to Germany's Babylon!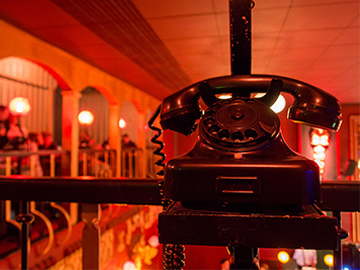 OUR EVENTS
A whole day on the trail of Babylon Berlin and the 1920s? Or even a complete weekend? No problem - there is so much to discover! How about a coffee break on the radio tower, built in 1927, or a champagne reception at a Babylon Berlin film location? At lunchtime or in the evening we will eat in a restaurant or pub from the period with typical Berlin cuisine. Then we can visit a ballroom and be learn the Charleston, or we celebrate cultural highlights in a vaudeville or burlesque stage. We can do an absinthe tasting or even watch a silent film accompanied by the original silent film organ of the Babylon cinema.